PHP is a server-side scripting language popular in many applications. It is one of the most popular languages for developing interactive apps. Hence, it is due to its open-source tools and fast execution speed. Custom PHP Development Services are the backbone of the most popular platforms. These include Facebook, Flickr, Yahoo, MailChimp, and Wikipedia, to name a few. Let's have a look at some of PHP's most essential applications.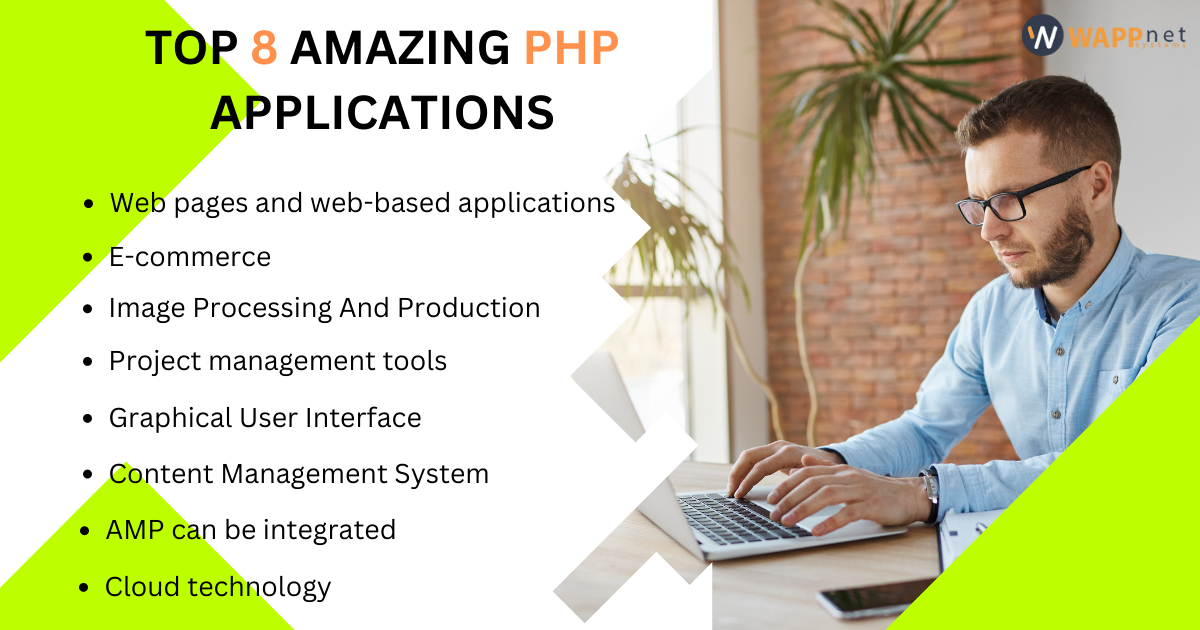 1- Web pages and web-based applications
A web application must have high degrees of customization. It should have an interactive user interface. PHP achieves these characteristics through its three-tiered design. Besides, it operates in a linear method on browsers, servers, and database platforms. PHP Website Development Services creates static and dynamic web pages. Developers can change the code so that it can use in different applications.
2-E-commerce
One of the most effective applications of PHP is e-commerce. Nowadays, every business, regardless of size, wants to get online. Besides, they can generate that extra cash. It allows you to create an eCommerce shop from scratch as well as enhance current systems. Powerful frameworks such as CodeIgniter, Shopify, and Magento aid in such wonderful solutions. For building eCommerce websites, Magento is the top PHP eCommerce platform. Contact us for more information.
3- Image Processing And Production
PHP allows users to export photos in a variety of formats, including jpeg, png, and gif. This is possible because PHP has access to the GD library. You can now quickly process and produce images with this programming language. To make use of this functionality, contact a PHP development company for hire. What exactly is a GD library? The GD library is a function that allows users to output photos. Hence, it helps in the browser, resize images, crop photographs, and handle many files.
4. Project management tools
A project management tool is one of the most significant parts of any business. Every customer would enjoy being kept up to speed on the status of their project's work. There is various project management software on the market that is ready to use. You may, however, create one using PHP.
5. Graphical User Interface
Of course, there are various languages that may assist you in creating the GUI. However, if you have a considerable understanding of PHP, you may use it to create a GUI.
Read More 10 Different Types Of Applications That Can Be Developed with Python
6-Content Management System
One of the most important needs of a well-organized firm is data and content management. Every company has different requirements for this. CMS is a fundamental necessity in practically all enterprises. It simplifies the process of updating and adding material. It only takes a few clicks to complete your task.
7- AMP can be integrated
AMP is an abbreviation for Accelerated Mobile Page. Even a 100-millisecond delay in webpage load time can impact conversion rates by 7%. This might turn out to be a huge loss! PHP contributes to faster website loading times. And, it can lead to higher search engine rankings. To improve page performance, PHP's AMP service is favorable.
8 – Cloud technology
Cloud technology is the next great revolution in the IT industry. It has really aided in streamlining the workflow. It has several advantages. Most businesses require cloud technology in this sophisticated era. It allows you to easily incorporate cloud technologies into your website. If you are unsure about the procedure, you may hire a PHP developer. You can access your data from anywhere in the globe without having to bring your laptop with you. Visit PHP development websites if you wish to use this technology. Cloud and PHP can be useful together in online applications. This connectivity has paved the way for a plethora of online solutions.
Conclusion
When it comes to web development, PHP is the most groundbreaking technology. We've covered ten fantastic things you can do with PHP, but there are many more. It has incorporated new technologies to deliver the finest service possible. It improves your creativity, protects your websites, and allows worldwide access to information. PHP experts distinguish themselves from the herd. You can get the service from a PHP development business.